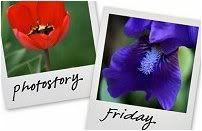 Hosted by Cecily and MamaGeek
It is time for PSF again... I cannot hardly believe it. This week has flown by so fast, I have been so stinkin busy that I cannot even remember what all I have done... If you want to know why I have been so busy,
look here...

Anyways, to the major point. I have not had much time this week to even think about taking any clever pictures of Mason or even anything I have done. I finally had time to clean my house last night, well- some at least...
I took these pictures this morning. Mason has gotten so good at entertaining himself in the mornings while I get stuff done or get a shower. This morning while I was putting my make up on, I came out of the bathroom to see why he was so quite and I found him just like this....

He is in a laundry basket on my bed that he stuffed himself with pillows and a blanket.
I never get tired of the fun new things he is learning... He is so "zoned in" in this picture. He was watching "Wheels on the Bus..."
He looks comfy, huh? I wish I could curl up with a blanket and a pillow in a snugly place....
He was actually telling me. "In Mommy.." He loves it when we can do everything together. Lately he has been asking me to get "in" the bath tub... Too bad for me I am usually folding laundry while he is in the bath tub...
So, I hope you are not getting tired of almost every post being about Mason, but he is pretty much what my life revolves around... Every time I whip out the camera, it is to catch what he is doing...
Have a happy weekend...