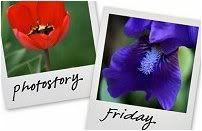 Hosted by Cecily and MamaGeek
Click on the link to see more Photo Story Friday's
This picture does not really have a story, well not about anything specific anyways...
The story behind this picture is that it is actually a picture of *me* and *curt* all in the same picture. This hardly ever happens lately. Our lives are so busy, we hardly ever see each other. His schedule changes about every quarter, he works crazy hours, he is starting back to Grad school in January, I work part time, together we both take care of Mason- sacrificing so that he can be taken care of by us and not at daycare (i have nothing against daycare), sacrificing our time together... For it would be far easier on the both of us to put him into daycare- we would definitely get more time together... But we agree that for our family that this is the best remedy. We spend all of the time we can together and relish each second... We have built a beautiful family and our little family is the WHOLE reason that we make the decisions we make...
Curt,
You are.... my love, best friend, the tester of my limits, the lover of my cooking, the best father ever, a super funny guy, a great son, the reason that I wake up, understander of my moods.... and I love you for all of this and even more...
Thank you for being there for it all,
Love forever- me.
ps- sorry if you all did not want a gushy post... I really did not know it was going to turn out that way...
Have a Happy Friday...