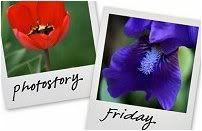 Hosted by Cecily and MamaGeek
We went away for the weekend last weekend to Curt's Mammies new cabin. The day we got there it was 50 degrees, the next morning we woke up to a ton of "white stuff"! It was beautiful and most likely was the most snow that the 3 of us will see all year... Tennessee is not to BIG on snow, I wish we were, but it rarely happens. So, to my friends in the North, I envy you... I love snow.
We tried to use a garbage can lid for a sled, it did not work, but Mason thought it was fun.
Learning how to snow balls, he learned from his Daddy- the master of throwing snowballs.
Trying to get a family picture... Trying is the KEY word!