A trip to Hobby Lobby will do that to ya.
We have some friends coming into town at the end of the month and I wanted to make matchy- matchy shirts for Mason and his long lost buddy!
He thought it was pretty cool. He wanted to wear it right away...
I let him be my model. I would give him a 9, since I got this cute picture out of it.


Of course it was inspected very well...
I am making one for my niece next with a butterfly.


Look below for my Photo Story Friday.
Hosted By: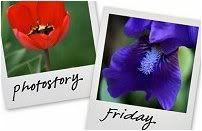 Hosted by Cecily and MamaGeek